During April I watched some poor films like 50/50 (2011) and Star Wars: Episode III — Revenge of the Sith (2005), some good films like … [well, none of them were that special, to be honest], finished Mary Shelley's apocalyptic novel The Last Man and Jonathan Kozol's Shame of the Nation. Would that I'd read "The Waste Land."
4/1-5
— Shelley, The Last Man, 75 pp.: Nearly finished with Book Two. Suspecting that Idris and family will not survive. Adrian? What will April bring to the family?
4/6
— NYRB on gaslight and phantasmagoria, Patrick Leigh Fermor's involvement in the abduction of Nazi General Kreipe
— Duck Soup (1933): This is one of those films where we get to ask if we are actually seeing "Duck Soup." This, not because of some technical falsification, but because of the cultural transmission of the tropes of Groucho Marx. One could imagine Groucho Marx saying just as Cary Grant said, "Everyone wants to be Groucho Marx! Even I want to be Groucho Marx!" Directed by Leo McCarey, who also directed Ruggles of Red Gap (1935), among others.
4/8
— Guns of Navarone (1961)
— Shelley, 5 pp.
4/9
— NRYB on Taccola and humanist engineering
— Midway (2019): Watched (in fact acquired through the antiquated yet functional DVD plan Netflix arose upon) because of my dear son is deeply fascinated with all things WWII. Or at least the ones involving planes and warships and battles. It was really a dreadful movie, although the special effects were generally impressive. The beginning of the film made it seem as though it might be a deep rumination on Japanese military politics … but that only lasted for ten minutes or so and then the dialogue went down south [to be spoken with a humorously deep inflection … invoking a certain SNL skit featuring Christopher Walken].
For Lu, what was vital was a seen like the one below, assuming it followed the Dauntless on its merry way: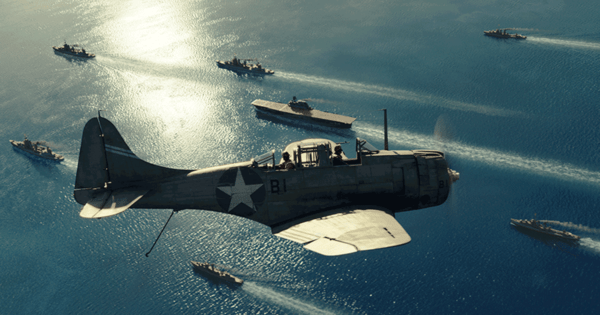 4/10
— NYRB on the origins of the American revolution and on Stoicism's Zeitgeist today
— Reservoir Dogs (1990): April 2021 saw the 31st year since the release of this film. It's striking that so much time has passed. Has the film aged well?
4/11
— Shelley, 10 pp.
— Harold Pinter, Complete Works Vol.4, "Old Time," Act One
— Kozol, 15 pp.
4/12
—Shelley, 20 pp.
— Revenge of the Sith (2005), last hour: The violence I did to April's cultural consumptions.
4/13
— Kozol, 25 pp.
— The African Queen (1951), mid 45 minutes, without sound or captions
4/14
— Kozol, 30 pp.
4/15
— NYRB on alternate history of philosophy, Alfred Hayes, and Biden
— Shelley, 10 pp.
4/17
— Mister Roberts (1955): Directed by John Ford and then Melvyn LeRoy and starring Henry Fonda, James Cagney, William Powell, and Jack Lemmon.
— Shelley, 25 pp.
— Pinter, "Old Time," finished
4/18
— NYRB on Steve McQueen's Small Axe
— Eddie Bunker, No Beast So Fierce, 15 pp.
4/19
— Finished The Last Man
4/20
— Bunker, 20 pp.
— NYRB on Bette Howland, Stephen Hawking's celebrity and legacy, and David Reynold's new biography of Lincoln
4/21
— NYRB on CRISPR
— Pinter, "Betrayal"
4/24
— NYRB on Philip Roth biographies
4/26
— Bunker, 50 pp.
— The Big Lebowski (1998), an hour
4/27
— Kozol, 20 pp.
— NYRB on Bolaño, Obama's Promised Land, and the Talking Heads
— Finished Bunker
4/28
— The Homecoming (1973): In the annals of weird movies is this film, written by Harold Pinter and starring, among others, Ian Holm. I suspect out there somewhere there is a fan of Holm's work. He's not no one. Best known for his role in Alien (1979), as the synthetic that breaks down.
4/29
— 50/50 (2011): Starring Joseph-Gordon Levitt, Seth Rogan, and Anna Kendrick. Levitt plays a Seattle 20-something who is diagnosed with a rare and very serious cancer. Levitt's character works for NPR and drives a Prius and has the emotional wherewithal of a heavily sedated bovine. Seth Rogan is the crude sidekick with a heart of gold, and Anna Kendrick is the well-meaning but unexperiened therapist who ends up falling for him. Ugh.
— NRYB On CRISPR, Soviet and post Soviet feminism
— Kozol, 35 pp.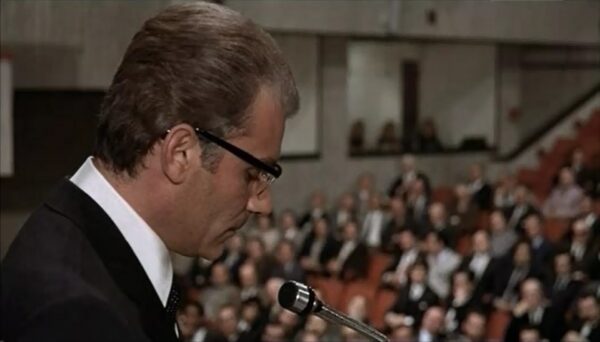 4/30
— The Mattei Case (1972): Gian Maria Volonté, whom I knew previously only through his role in A Fistful of Dollars, plays Enrico Mattei, a bureaucrat entrusted with liquidating the national oil assets the end of the second World War to the benefit of several foreign countries. But he decides the stewardship is better to remain in Italian hands and benefitting Italians. This leads to his assassination, which is the event the film is structured around.
---