For several years I have worked in SEO.
Presently at Sagapixel, an SEO agency located in Cherry Hill, New Jersey but beginning at Wonderful Machine, a Narberth, Pa.-based production company and commercial/editorial photographer directory,.
What is SEO?
The acronym SEO stands for Search Engine Optimization, which basically means a website's visibility to search engines. When a site is optimized, it should rank more highly for specific search engine results.
How did you learn SEO?
My friend Lindsay Thompson has the best account of how I began learning about SEO. Ask her if you want a good story.
I can honestly say I am an autodidact in matters SEO-wise. The internet is awash with information about SEO, and information is a pretty good word for it. In other words, both better and worse information is available.
A pretty good example of this is bounce rate, which has been an important KPI of a successful user experience. If you had a high bounce rate, that was a bad sign.
Yet now Google Analytics has gotten rid of bounce rate in its newest iteration, GA4.
What happened?
Let's be super specific: a bounce is recorded by UA (Google's Universal Analytics) when a user opens a page and then does not interact with that page within 30 minutes. So that counts when someone opens a new browser tab with that page and then immediately closes it, just as much as it does if someone opens it and then leaves it in the background, ignoring it. It counts as a bounce even if the user interacts with the page after the 30 minutes is over (although that pageview would be part of a separate session).
But a bounce could be recorded even when a user is opens a page, finds precisely the information they need, and then closes it.
This is why I am skeptical when people say, "Numbers never lie." Numbers do not tell the truth or lie (but they can do both) until they are put into context.
What is an SEO Audit?
SEO audits are deep dives into the functioning of a website in respect of all of the factors affecting the site's search engine rankings. They begin, in part, with some sense of what the site's goals are. How does a photographer want her site to represent her? The goals of the photographer are part of the criteria that is used to judge the site.
Two Awesome Case Studies:
At Wonderful Machine we write case studies for consulting projects, to advertise our capacities. I've written a bunch (more links below), but one of my favorites is for the SEO Audit & Implementation of the website of New York food photographer Evi Abeler.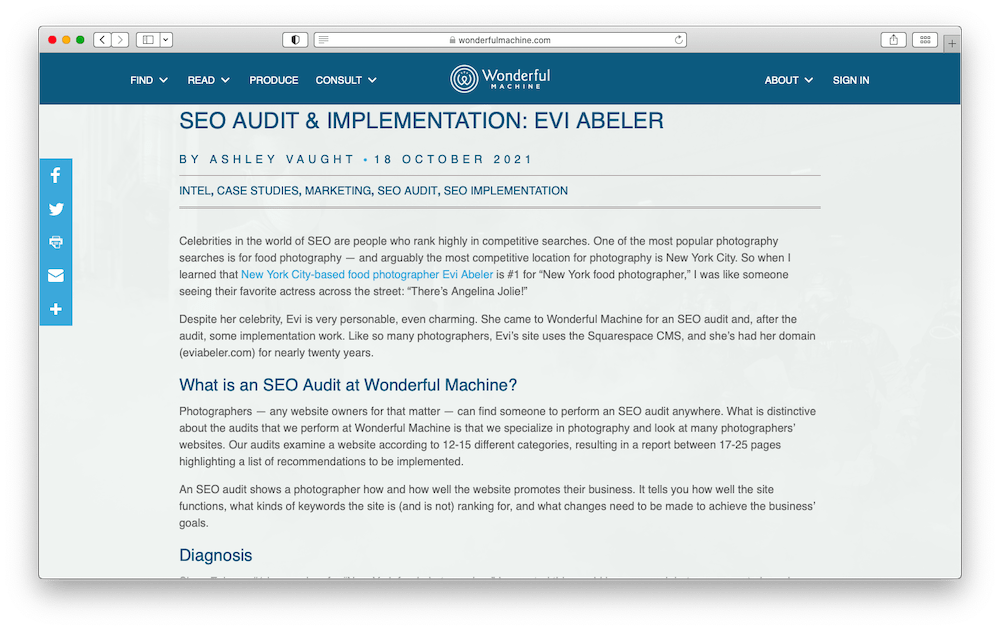 I develop a riff in the case study about how Evi is an SEO celebrity and have a couple of memorable lines — especially the last, which I think is brilliant. The reason she's an SEO celebrity is that she ranks highly in what I think is a very competitive search, namely, New York food photographer. Her audit was generally straightforward, but it did reveal that her site was not forcing the HTTPS protocol on users. Since that is a ranking factor, we wanted to fix that.
The other case study that I'm pleased with is the SEO audit for D.C.-based photographer Scott Suchman. Scott is a food photographer like Evi, but his work is primarily editorial, not commercial, and he's fine with that. He did not have the competitive ranking that Evi did but wanted to get more projects and therefore needed to increase his visibility as a photographer.
I have a good line at the end about Joe Friday, a vestige of America's cultural yesteryear.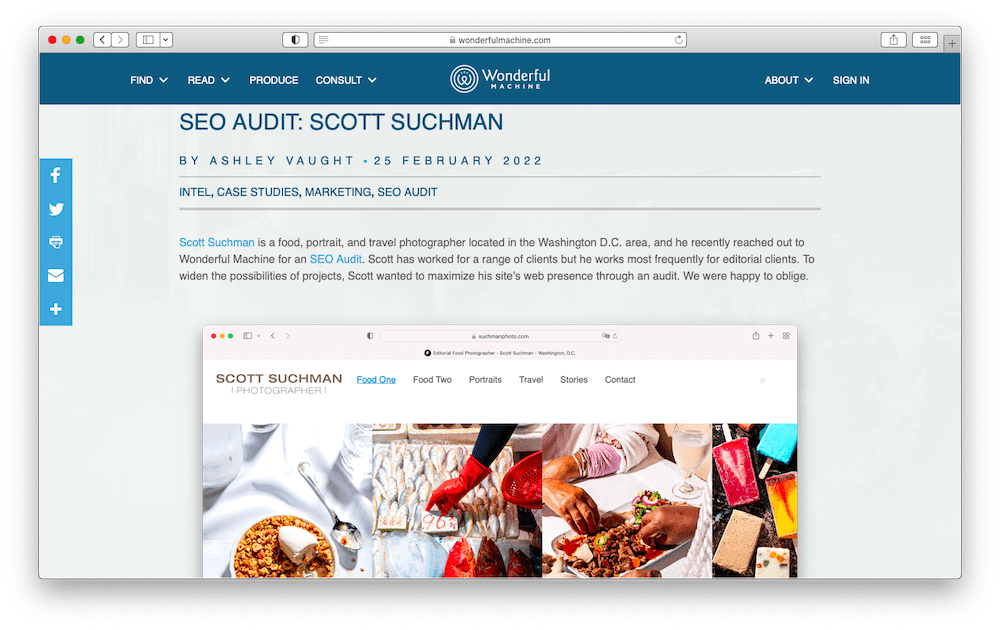 I have published a number of essays and articles for Wonderful Machine.
Photographers for whom I've done SEO projects
Other case studies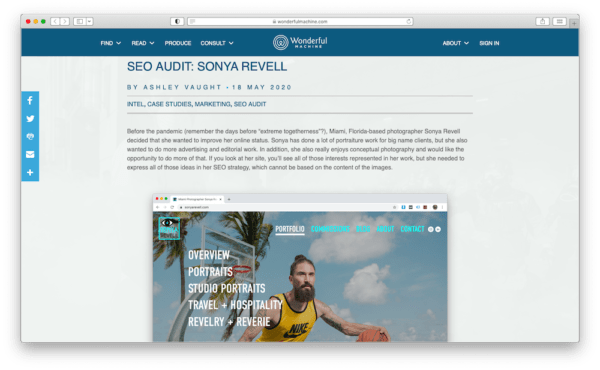 Talking about SEO
At Wonderful Machine I have audited various photographers' websites to assess their present SEO strategy and recommends changes to achieve their unique goals for their career and in their specific market(s).
Wonderful Machine Member Open House Event,
July 1, 2021
During the Member Open House I reviewed the sites of Alex Buisse, Chona Kasinger, and Nicole Loeb. I always learn a lot when I get to talk with photographers about their business and their websites.
Wonderful Machine Member Open House Event,
May 21, 2020
In the video below, I provide "real-time" SEO reviews of the websites of Simon Plant, John Davidson, and Inti St.Clair.
Sprout Studio Interview Podcast
In the summer of 2020 I was interviewed by Sprout Studio to talk about the specific challenges faced by photographers when thinking about SEO. I enjoyed being able to share a little of what I know with Sprout Studios CEO Bryan Caporicci. To listen, follow the link.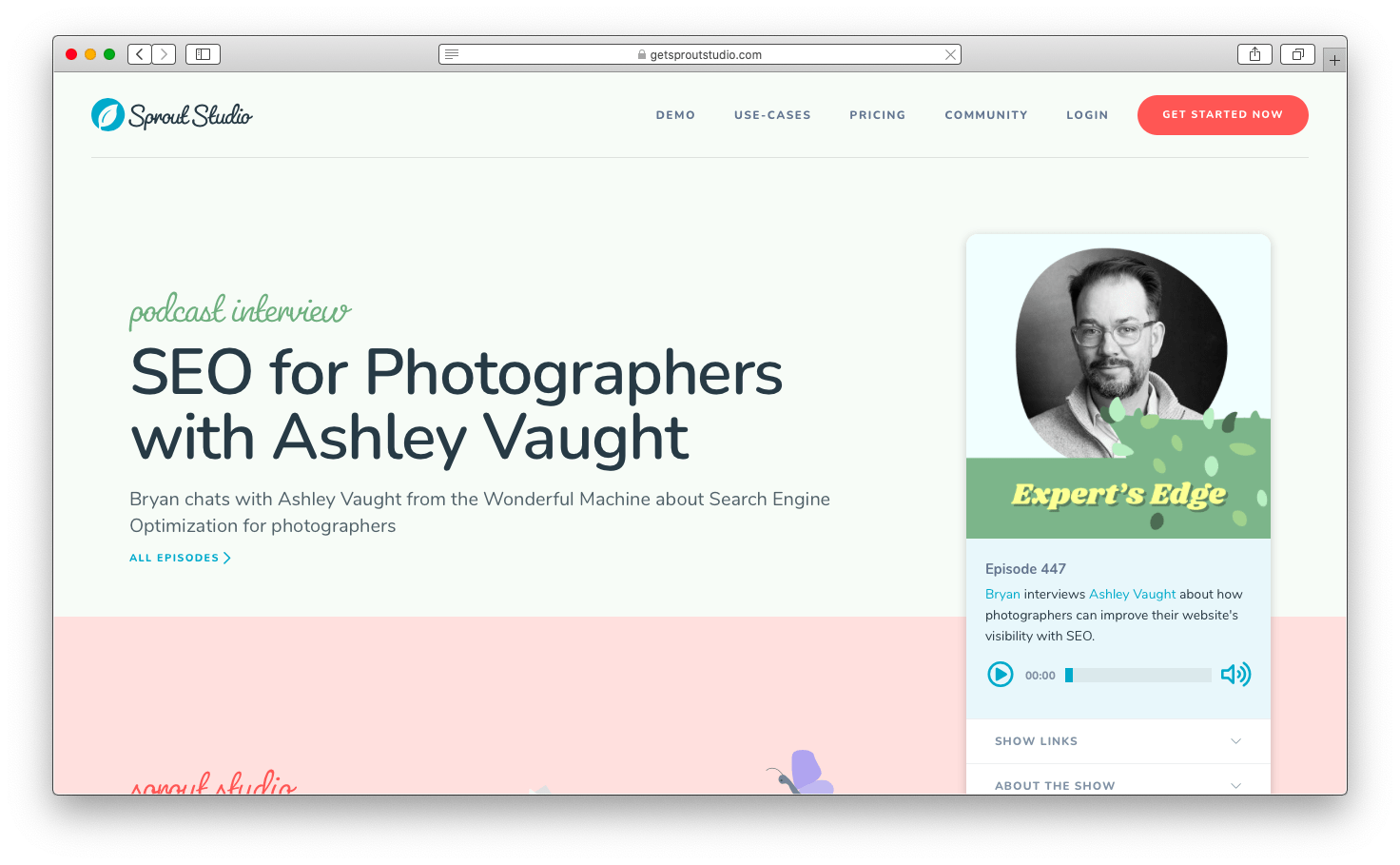 ---
Dying to know more about SEO? Send me an email and let's chat