Transit (film) and Transit (novel)
Film Comment, to which I subscribed during the 2019-2020 year (although the magazine's sort of folded—at least the hard copy), learns you about lots of movies, as you might expect. For example, had it not been for FC, I would have probably never heard of Lucrecia Martel, my favorite director these days. Nor of Joanna Hogg. Nor of Christian Petzold.
To be honest, I've been meaning to see Christian Petzold's Transit (2018), and, although it's been available on both Kanopy and on Amazon Prime, I still have not yet watched it. Accidentally, I recently learned that the film was based on a postwar German novel by Anna Seghers. Again, of the latter I knew nothing. In fact, I only encountered the novel through my fetishism of The New York Review Books.
A brief excursus on NYRB
The New York Review of Books is at least in part an intellectual journal with a formidable pedigree, although I admit in part it seems also to be devoted to publicizing the books that it publishes. Or so I've recently thought.
They're doing a hell of a job, if my own consumption can attest to it. Over the past few months I've read at least four of their titles, including now Transit, In a Lonely Place (Dorothy Hughes), Defeat (Ségur), and something else. Last year I read Voltaire in Love (Mitford), which I enjoyed but thought maybe no more of the Mitfords.
Transit (the novel)
The novel is narrated by a character whose actual identity is in question. We know that he'd been put into a camp by the Nazis, that he is German, that he may be Jewish (but I don't think so), that he escaped from that camp along with many others and then travelled across France from Paris to Marseilles.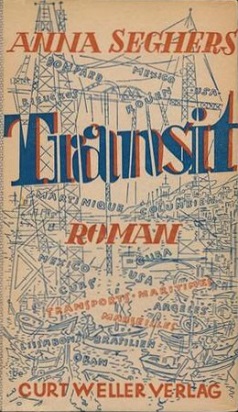 He went to Marseilles after discovering (in Paris) the effects of a dead writer named Weidel. He learnt of the writer after agreeing to deliver a letter for a friend. But the writer is dead, although his effects remain. Or rather, we are told the writer is dead. The narrator goes through these effects and discovers a letter from the writer's wife, from whom the writer seems to be estranged although a newer letter begs him to come and find her in Marseilles. A manuscript is recovered as well as papers of the sort needed to get off the continent—transit papers.
The narrator of Transit then travels to Marseilles, a city teeming with people trying to … get off the continent. The narrator claims that he is not interested in leaving and, in fact, develops relationships with some locals. But his days are mostly spent in the cafés where the refugees gather and exchange information about ships due to depart and the like.
In the scene when the narrator tries to deliver Weidel's things, he seems to inadvertently assume the identity of a man named Seidler—apparently the given name of the pseudonym Weidel. Then he haphazardly goes through the process of gaining a visa to remain, which is paradoxically dependent on definite plans to depart. The papers he must collect multiply, including travel visas simply permitting him to have left the camp where he was, to travel from Paris to Marseilles, and ultimately to leave the city within a certain window of days. This does not include the ticket he needs or the visa from the country to which he wants to travel.
These complexities are manifold, and the events of leaving or staying are interlinked in unexpected and seemingly illogical ways.
As though this were this not enough, Transit's narrator becomes involved with Weidel's wife, who in fact does not really enter into the story until it is well underway. Their relationship is very peculiar and reflects in part the exceptional emotional needs that refugees have of one another and the favors and privileges each can offer and provide. Although their relationship is never explicitly romantic, all indications suggest something more than friendship is at foot.
The narrator is working to help Weidel's wife, Marie, leave the port city, but he is also engaged in a less tacit competition with the man Marie is accompanying, a doctor headed to South America. In the end …
But you're not going to read this book for its ending. You'll read it for the beginning, the middle, and the end, none of which my summary disturbs, for as we enlightened readers no, a précis is just a retelling that does no violence to the artistic integrity of the original …
Profound Unknowing
In Transit, no one really knows who the other is. The reader is never certain of who the narrator really is. Neither does Marie know that the narrator is pretending to be Weidel to assist her. Near the end of the novel the narrator appears to have arranged things so that he can leave with Maria and the doctor (although he will not share with them this intention). But at the last moment he decides, although his remaining will put him in jeopardy, to do just that.
Statelessness
I intend to blow your mind my telling you that this novel concerns statelessness.
Now that your mind is blown, I want to confess that this thought really only occurs to me after reading an excellent article in the New York Review of Books called "The Right to Belong," written by Atossa Araxia Abrahamian.
At one point in her discussion of two recent books on statelessness, Abrahamian refers to novels dramatizing this situation, and as I read this my mind, the strange thing that it is, turned towards Transit.
The reason is obvious:
The characters of the book are all located in an interstitial zone where their status depends on momentary geopolitical transformations, the whims of empowered officials of various countries, and the contents of their baggage.
They are stateless in the sense that they are between one state and another, and they suffer the insecurity of not knowing what their fates will be.
But I must confess that my imagination did not make the connection while I was reading the book. What's more, the profound unknowing that I was led to was not that of being dispossessed of a nationality. And so I wonder why.